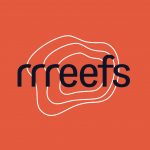 About Business Network
rrreefs (rethinking, rebuilding, regenerating coral reefs) is a young and innovative women-led organization based in Switzerland. We rebuild coral reefs. For a healthy ocean. For life below water, bringing back abundant marine biodiversity.
As an ETH Zurich Spin-off, our work is grounded in science and engineering, and elevated by art, education and environmental awareness raising.
Our current prototype is a modular system of 3D-printed clay bricks, which already increases fish biodiversity and coral growth at our pilot site in San Andrés, Colombia. The size and shape of the reef structure is customized to fit local topography and water flow conditions. That is how modularity enables the effective redirection of currents for erosion protection, and the creation of ecological niches with different sizes and flow conditions to promote a high biodiversity. Also the surface structure of our bricks is scientifically designed to help coral larvae settle and survive, promoting coral reproduction and growth.